There are many perks for living in a small town in Croatia. We all know our neighbors. It's very safe that sometimes we go to bed without locking our doors. There's no pollution, no traffic (except during harvest or when the ducks or chickens cross the road :-). You can pretty much walk everywhere.
However, there are also "challenges." We can't always get mail in a timely manner. The prices are high because there's not a lot of competition. We don't have a movie theater or malls or big supermarkets. We often buy our meat from the butcher shop and bread from the bakery. So, we go to Zagreb, Croatia's capital, for bigger purchases. And about a couple of times a year, my family takes a day trip to our neighboring countries, Austria and Slovenia, to go shopping. We live about 10 minutes from Slovenia and an hour from Austria. Prices there are much cheaper and they have an Ikea and Toys 'R Us. We still can't find many products we're accustomed to in America, but we're thankful for the little treats we find now and then.
Because we don't go there often, I often make up a list to do/buy, so I make sure I don't forget anything. I made this book list with that in mind. I printed the lined template that you can download from
Lynn's blog
.
Stamps:
Organize It! Stamp TV kit
Paper:
Green Apple
, Sweet Corn, Red Lipstick
,
Oct Afternoon Farm Fresh
Ink:
Vivid Straw and Brick Red
,
White pigment
Accents:
Romance Button Assortment
, ricrac, lace and
Oval Nesties
, EK Success round punch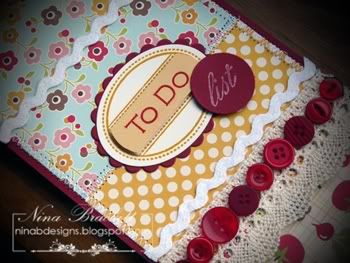 On a recent shopping trip, we found a treasure that we've been craving for awhile: BABY BACK RIBS! This was our Sunday dinner: BBQ ribs (that my DH grilled to perfection), salad, BBQ beans, garlic bread and french fries. For dessert, we had banana pudding (using the last drop of condensed milk in my stash).
And here's Katy enjoying the "bones." My girls didn't know how to quite eat the ribs. They would take a bite, then toss it. We told them there were more meat in it. After that, they kept asking us if they ate enough. :-) You just can't waste good meat like that...they still don't get it, though, but they sure enjoyed it.
Thanks for letting me share me a bit about life in Croatia.