Have you been to
Alice Wertz' blog
lately? Oh my, I love everything she makes, but esp the ones below. As my guest DT, she made these beautiful cards using
Heartily Yours
and
Heartily Yours Additions
. Don't these cards just make you happy inside? Alice will be wowing us with more cards using these sets this whole month.
Now, look at what my other fabulous friends have sent me over the holidays? These wonderful RAKs (Random Act of Kindness) are all so lovely and I'm still in awe of my friends' generosity in sharing their beautiful artwork and some paper crafting goodies, too!
Thank you, my dear friends, for gifting me with your friendship, visits and comments. I treasure each one of you. You have truly blessed me beyond words!
This oh-so-elegant card is made by my super talented friend from Germany,
Vanessa Menhorn
. I love the stitching she did. I wish I can do stitching curves like that :-). And make sure you check out
her blog
as she is just amazing and I'm not the only one who has noticed. She's been featured everywhere in blogdom.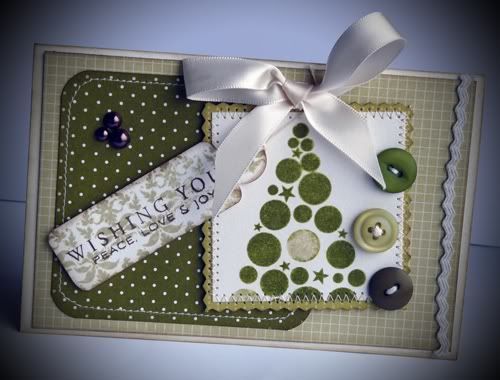 This next one is from my lovely friend from Canada,
Michelle Bertuzzi
, who is also behind the cool sketches at
Card Patterns
. She and I both came from the Philippines and it's always a treat for me to "meet" fellow Filipinos in the crafting world. I don't know if you knew this, but she also illustrates for
Unity stamps
. My favorite of her creations is this
wood grain stamp
.
These gorgeous card and cute La-La-Land Crafts stamps are from my CA friend,
Lisa Hjulberg
. I had mentioned to her how these stamps remind me of my girls, then she sent them to me. Isn't that nice? And that card - oh I love it. Lisa creatively combined several images from a few of
my GinaK Designs stamp sets
to create this masterpiece.
My fellow crafter in Croatia,
Jane Beljo
, sent me a digital RAK,
Noah's Ark
, which is her own illustration that you can buy through Squigglefly. Make sure you check out
her other digi images there
. They are all so adorable and fun to color! And I have to apologize to Jane for forgetting to post here the previous RAK she sent me that includes lots of baggies that I used below and some of her yummy FIMO buttons. You know how much I love buttons, so I've been hoarding them. :-)
These goodies are from my very generous friend,
Lisa Walsh
. She knows how much I love butterflies, so she sent me these thoughtful papercraft goodies that can make any butterfly-lover's heart flutter. :-). And look at this beautiful card. Isn't it adorable? By the way, this may be difficult to do, but if you have to get one thing from the new Stampin' Up! Occasions catalog, you have to get that new Butterfly embosslits. I just love it! I've made at least 5 cards with it so far. You can view the catalog
HERE
. And if you don't have a demo, I highly recommend Lisa. I've been a very happy customer since I found her over a year ago. And she has great specials all the time.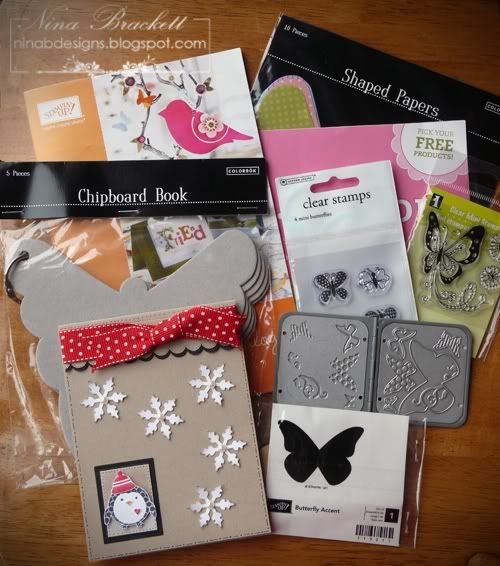 Come back tonight as the GinaK Designs crew do a blog hop for Melanie's Square Pegs set.