I had fun making crafts with my girls this afternoon. Gaby, my 8-yr-old, wanted to make a card just like
my entry to the Moxie Fab Floss Challenge
, so I printed out another butterfly for her to stitch. Isn't this card amazing? I know I like it better than the one I made. I will enter this, for sure, in Cath's contest.
She picked the colors, patterned papers (
Cosmo Cricket Early Bird
), and everything she needs to make this awesome card. She made the bow using the bow-easy and stamped the sentiment (which she picked herself because it's "so cute to go with the butterfly") with white pigment ink. The only thing I did for her was cut the card base.
Here she was hard at work with stitching.
And of course, she has to model with the card. She asked me to enter this to other challenges, so it'll be in
Stamp Something
and
Cute Card Thursday
.
This is my 10-year-old, Gracie, who adores horses. She made a girly card and did everything on the card you see here. I love the color combo she picked.
Here's a close up of her card. I'm also entering this to the
Cute Card Thursday
challenge. The horse stamp is by Inkadinkado, senitment from
Lovely Labels
.
Last, but certainly not the least is my 4-yr-old, Katy, who made me a pop-up card.
Here's the inside...a butterfly that she cut out herself.
But the most impressive thing about this card is how she made the butterfly and circle pop. Just take a look at how resourceful my Katy is. She rolled some regular scotch tape and used it to adhere the layers. How very clever. So, now I know what to do next time I run out of pop dots!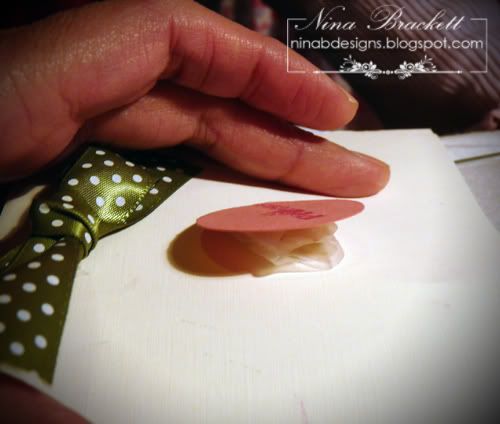 Thank you for letting me share about my girls. I am so glad they love crafting as much as I do. I am so proud of them and their creativity.