When Cath issued the current
Moxie Fab Floss Challenge,
the only thing I could think of was stitching some kind of a border on my card. Then, I remembered a craft that I did as a child - string art. I remember having fun doing it then as I did making this card.
To begin, I had to draw a dotted butterfly. If you want to try it, you can download the image below by right-clicking your mouse and saving the link on your computer.
Import it in Word, select "wash out" (so the image turns to light gray) for color, and print out. I made the image 3.8" wide for my card below. I pierced the dots and started stitching the floss through the holes to create this effect. I strung some pearl beads for the body. I used a multi-colored DMC floss and it makes this beautiful color mix without changing floss colors.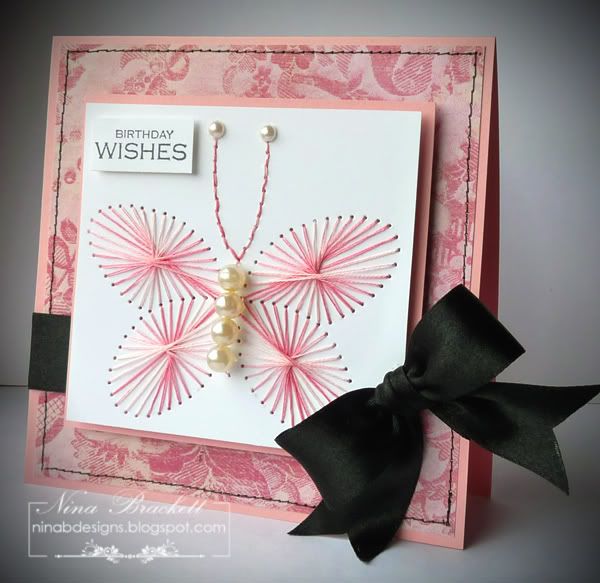 Here's a close up of the card. I think this may be the bulkiest card I've ever made. I have other ideas for this challenge. I hope to have some more play time later :-).
All supplies are by Gina K Designs, unless otherwise noted:
Stamps:
Spring Florals
Papers:
Innocent Pink
, K & Co patterned paper
Read
my other post below
for today that highlights another one of my Designing Friends and some important reminders.