Today is a special post because I'm previewing a set that I dedicate to my mother-in-law, Jimmie Ann. It's not only because it's her birthday next week, but because she is the true inspiration behind all the images I included in this set, which is aptly called,
Nana's Needlework
. (She is lovingly called Nana by my girls.)
Mom Brackett is a skilled needleworker. She helped me make my first and only quilt 12 years ago. She's an avid cross-stitcher. Just this summer, she taught my girls how to knit and gave them each a basket to keep their knitting yarns and needles in. Their home is a real treasure trove because it's filled with her handiwork, her labors of love of many years. So, Mom Brackett, if you're reading this, thank you for being an inspiration to me, for passing on your gifts and talent to my sweet girls, and I hope you have a happy and blessed birthday!
Here is a card using
Nana's Needlework
and
Nana's Needlework Sentiments
. The patterned paper is Cosmo Cricket Material Girl. The cardbase is
Innocent Pink
.
And here's one that matches my new sets with a pot of plant from an earlier set,
Elegant Post
. This shelf will go together with many of
my older sets
. The images are colored with Copics. The patterned paper is again Material Girl by Cosmo Cricket.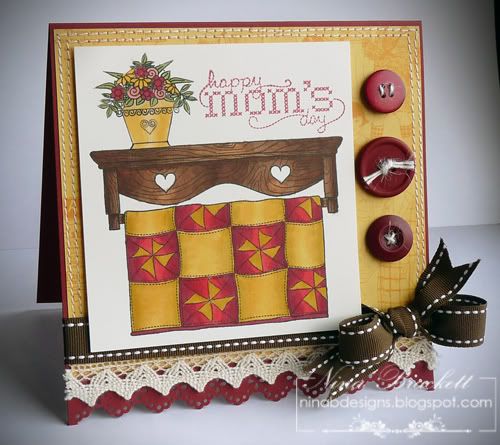 We are also featuring Rupa's newest set today called,
Spring Has Sprung
. And true to Rupa's style, this set is chock full of cute images that are fun to color and perfect all year round. The papers are Webster's Pages, card base is
Green Apple
.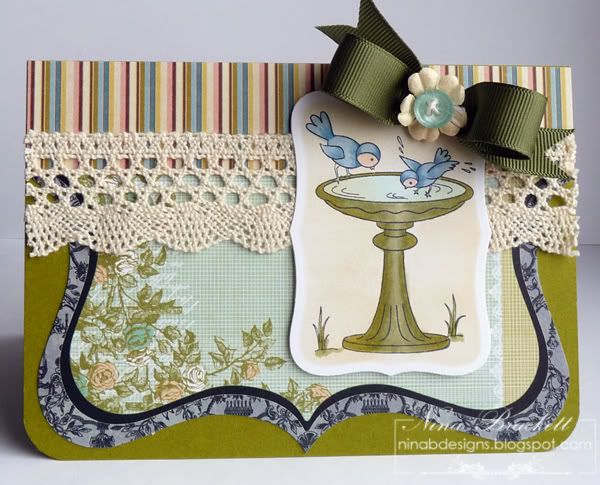 For even more inspiration with tonight's new stamp sets: start with Gina's blog
.
Then, visit these Designers' blogs:
Jessica Fick
Melanie Muenchinger
Theresa Momber
Carolyn King
Cathy Tidwell
Lee Murphy
Lynn Mercurio
Donna Baker
Kurtis Amundson
Emily Giovanni
Erika Martin
Bev Gerard Jennie Harper - our Guest Designer for this Month!
The Release Party is tomorrow night
Thursday, March 18th
starting at 7pm and ending at 10pm
(all times CST)
when all the new products will be available for purchase in Gina's online store. To keep informed of all the party plans and activities, check out this link:
Release Party Forum on StampTV
I am entering the cards above to Moxie Fab's
Moxie Fab Diggin' on Doily Challenge
.